Why We Are Pamunkey Bakers
"Know from where you come. Before you know who you are and where you are going, you must know from where you come."
-- Proverb
Pamunkey Neck, Virginia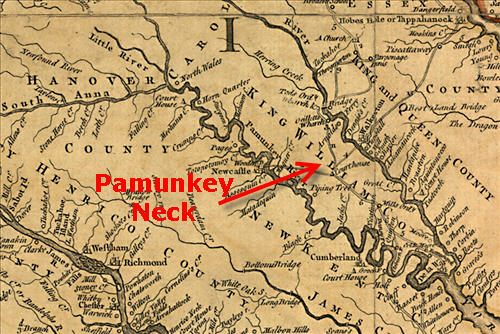 The Pamunkey Neck is a long narrow strip of land in eastern Virginia lying between the Mattaponi River on the north and the Pamunkey River on the south, northwest of the confluence of those rivers where they meet at the York River. In Colonial Virginia, it was entirely within Old King William County. Today, portions lie within King William, Caroline, and Spotsylvania Counties.
We lay claim to Pamunkey origins based on circumstantial evidence, key among which is the marriage of Thomas Baker (c1711-c1777) to Dorothy Davenport (1716-c1790), whose grandfather Davis Davenport is well-documented as a landowner in Pamunkey Neck whose lands adjoined those of an earlier Thomas Baker. Discovering whether and how that earlier Thomas is linked to our Thomas -- as grandfather, grand-uncle or other relative, perhaps -- is one of the purposes of this website.
We also aim to trace our Baker family as it grew and spread out -- through Virginia, in Caroline, Spotsylvania, Orange, Culpeper, Botetourt and Montgomery Counties, among others; into North Carolina, in Burke, Wilkes, Buncombe, and Yancey Counties, among others; into South Carolina, Tennessee, Georgia, and Alabama; and west into Texas, Oklahoma, Colorado and more.
And we hope to unite today's Pamunkey Baker descendants in appreciation of our common origins, heritage, and history.